Book Recommendation: Birds of a Feather by Jacqueline Winspear
Birds of a Feather (2004) is the second novel in the Maisie Dobbs series by author Jacqueline Winspear. Dolores and I have read several of the books in the series and plan to read the remaining novels. You will love the main character and her investigations. Click on the links to learn more about this author and her novels.
Goodreads Review: Birds of a Feather
It is the spring of 1930, and Maisie has been hired to find a runaway heiress. When three of the heiress's old friends are found dead, Maisie must race to find out who would want to kill these seemingly respectable young women before it's too late. As Maisie investigates, she discovers that the answers lie in the unforgettable agony of the Great War.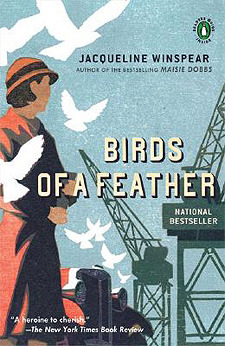 Black-Eyed Susans, Rudbeckia hirta, Kentlands Photowalk, Gaithersburg, Maryland USA IMG 5077
Photograph by Roy Kelley 
Roy and Dolores Kelley Photographs
Roy and Dolores Kelley Photographs
Roy Kelley and Associates
Roy Kelley, Associate Broker
Realty Group Referrals (Retired from RE/MAX Realty Group)
6 Montgomery Village Ave., Suite 200
Gaithersburg, MD 20879
Main Office:  301-258-7757 (You will not reach me at this number)
Send an email message if you need my phone numbers. I will be happy to recommend a real estate professional if you are moving to the area.