Book Recommendation: Dead Wake by Erik Larson
Dead Wake, The Last Crossing of the Lusitania (2015) is the lastest book by New York Times bestselling author Erik Larson. You may be familiar with the story of the Lusitania but you will learn much more when you read this very interesting and well documented historical account. Please use the links to learn more about the author and his books.
Use this link to read The New York Times book review of Dead Wake: 
Erik Larson, Author of 'Dead Wake,' Seizes Historical Mysteries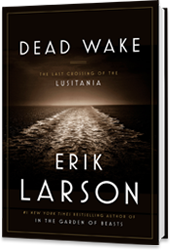 Dahlia, Kentlands Photowalk, Gaithersburg, Maryland USA IMG 6089
Photograph by Roy Kelley 
Roy and Dolores Kelley Photographs
Roy and Dolores Kelley Photographs
Roy Kelley and Associates
Roy Kelley, Associate Broker
Realty Group Referrals (Retired from RE/MAX Realty Group)
6 Montgomery Village Ave., Suite 200
Gaithersburg, MD 20879
Main Office:  301-258-7757 (You will not reach me at this number)
Send an email message if you need my phone numbers. I will be happy to recommend a real estate professional if you are moving to the area.